We're just a couple of guys from Washington, DC building a house on St. John. Sounds simple enough! Guess we'll see about that. So ... here's a running timeline of the progress on our Bongo Bongo St. John blog.
April 14, 2006
Last trip to the Florida Avenue post office today. A total of 26 boxes sent Express Mail over the course of the last two weeks. Most of them this week. At least three a day. One day, we took eight. I just added it up for fun. We've sent 326 pounds of Express Mail to ourselves for a grand total of $981.89. And we lugged them all to the post office on foot. Just a couple of blocks, but still. You turn heads.
We sent all of these boxes to ourselves, care of The Mail Center at the Marketplace. They are very friendly (I'd call every other day to see if our boxes were there). I think they charge $10 per box, plus $3 per day to hold it. Yes, that, plus what we spent with USPS seems expensive, but it's getting there fast and unscathed and, you know what? All of the numbers in this blog entry add up to a figure that is SO insignificant to us at this point. And…that's scary.
Next entry from Bongo Bongo!(I'll be climbing the telephone pole to connect I think.)
April 15, 2006
Arriving at the new dock at Enighed Pond is a completely different experience. All sorts of new stuff to look at on the way in, and it seemed very organized to me. Not the chaotic nightmare I read about. Maybe the bugs are already worked out.
The first thing I notice is the finished great room floor, which looks great. All that's left are the verandas, and the floors are all done. Problem is the verandas are where everything, and I mean EVERYTHING is stashed right now. It's a mess.
Russ was delayed by, of all things his job!, and won't be here until next week.
April 16, 2006
We have waited a very long time to take this picture. Our own floaties in our own pool. And there they are. Bought them online. They're pretty nice floaties. I shut off the fire hose when the pool was filled last night (a crew guy was here when I arrived babysitting it, but I assured him I could figure out "full".) And then I did something I've also waited a long time to do. I swam in our own pool. Very cool.
The ultra-violet water purification system is in, along with the rest of the plumbing. The pool pump will get hooked up tomorrow…and then all the chemicals added. Should I have swam in the pool last night, splashing around in untreated water from the cistern? I don't really know…but my skin hasn't fallen off yet.
April 17, 2006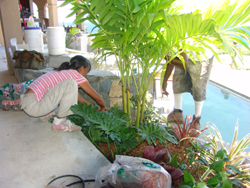 Sending all those boxes a few a day, over a few weeks was pretty easy, but I forgot that I'd have to PICK THEM ALL UP AT ONCE! Two truckloads of hiking boxes into the house. I'm now wondering what was so damn important that we had to ship it.
Josaphine is back mulching the planters. What a great smell.The railing guys are also FINALLY here and putting them up.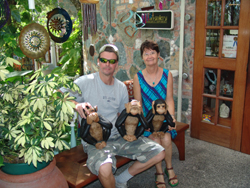 The trenches were dug for the electrical and septic in the morning, pipe connected by afternoon, and I am promised a real shower tonight. Not a hot shower mind you, but a shower. I haven't had one in two days and I smell like cistern water.
This is Radha, who owns Caravan Gallery. I spotted these monkeys at her store months ago, and finally got them from her. She's a new blog reader, and so is her husband, who happens to be Glen Speer, the architect who gave St. John Mongoose Junction and a couple of dozen of the island's greatest villas. What does he think? Well, no offer from him yet to strap on a tool belt and come up and help out.
Updating the blog last couple of nights at Quiet Mon. This is such a great island.
April 18, 2006
Painful decision. We canceled our first few guests today. There was no choice. It is not going to be ready. Period.
What do you do when you cancel guests? We find them another place to stay, or give a full refund and we offer a huge discount if they want to try Bongo Bongo again. Embarrassed doesn't even come close to what we're feeling
Of the relatively small number of bad days during this project, this is the worst. We're both miserable.
April 19, 2006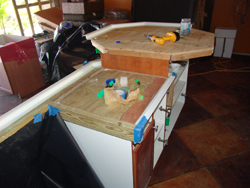 I waited a day to post the above entry, because we didn't want the canceled guests to read about it here first. We're so embarrassed and so angry about having to do it.
The farmhouse sink is set in place, and no of course it didn't go smoothly. But it's in. The concrete counters will be poured tomorrow. The guy is finishing up the framing with plastic rails that go around the outside and make a rounded nose.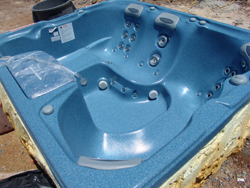 First look at the hot tub unwrapped.
I bought a nice gas grill. Home Depot on St. Thomas had kind of cheap grills. I paid more for a good, 3 burner Webber at St. John Hardware, which they put together for me. There is no propane tank exchange deal like in the states. You buy your tank, and are handed a marker to write your name on it. It is yours for life. Then you're told to take your tank to the old laundry place on Centerline Road past Paradise Lumber and ask for a guy named Moses. You get it back the next day. I did not make this up.
April 20, 2006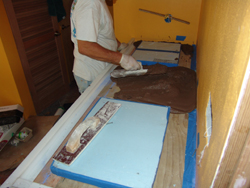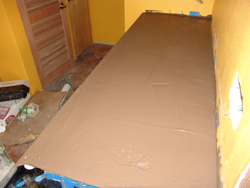 The concrete counters are getting made. They start just like you'd think, with a bunch of colored concrete dumped into the frame. Styrofoam forms sit where the sinks will drop in, and will be removed when the counters are cured.
The big track for the great room sliders finally shows up. The last remaining major piece of the puzzle. Now this house can get finished. And the site is buzzing with workers, which also means the spend-o-meter is spinning so fast the needle is about to fly off.
Funny coincidence. I saw this turtle painting at the Michael Banzhaf Gallery and wanted it. Then I noticed the artist's name. Kristen Maize, program director for the Friends of the Virgin Islands National Park, and ALSO the daughter of Bongo Bongo architect John Maize! That closed the sale. John will get a kick out of this.
April 21, 2006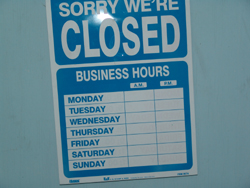 This is not a helpful sign. But it kind of sums up what trying to get things done down here can be like.
A strange issue with the hot tub. The factory sprayed WAY too much insulation around its underbelly, and it won't squeeze through the hole it sits in. A guy uses a big hand saw to shave away the excess…shaving around delicate pipes and tubes and all. A little worried about that operation.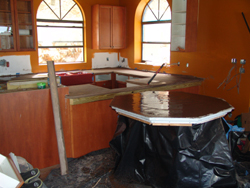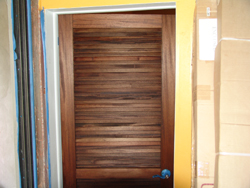 The last of the concrete counters is finally poured. This octagon-shaped one will be broken out of its mold and mounted on top of its cabinet in the kitchen. The rest of the u-shaped kitchen counter is all one continuous piece. No seams.
The doors are stained a dark, rich color ("Jacobean"), and came out very nice.
April 22, 2006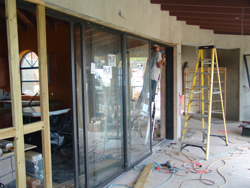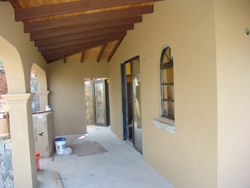 A Saturday crew finished installing the big slider and got the rest of pocket framed in. Durock on the frame, and plaster that stretch, and done. The plaster is almost completed all around now, and it turns out Gary Francis, the guy we hired, isn't just any plasterer. A three page spread on him is in this week's St. John Sun Times, calling him a "World Class Artisan", whose resume includes helping restore the ornate plaster work in the National Postal Museum in Washington, and who will be leading a team to restore the vaulted ceilings of the pope's private chambers in the Vatican. Wow. And we just asked for tan stucco.
April 24, 2006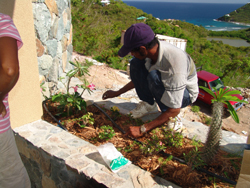 I orchestrated a major cleanup this morning as soon as the crew arrived, and moved all of our furniture yet again. The sight of a $500 ottoman being used as a workbench was just too much to take. My microwave also seems to be getting more of a workout than I figured it would. Since putting it in, I've noticed the crew's lunches have suddenly become Hot Pockets and Pizza Bites.
The counters, both kitchen and bath, are finally and mercifully done. This was a major headache.
And Josephine's crew is putting a drip irrigation system in the planters.
Russ arrives tomorrow, and The Ritz this place ain't.
Late word. The Viking range is clearing customs in St. Thomas. It will be here tomorrow.
April 25, 2006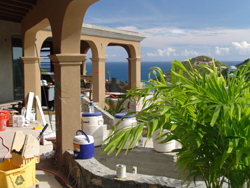 There's a sight for sore eyes. Oddly, the carton the Viking showed up in was actually addressed to Betty Hadeed, final destination, Antigua. I wish Betty God speed in getting MY range, because I'm not giving up hers.
If you can look past the MESS up here, you can actually see the house is almost done. I have developed heavy-duty respiratory issues from not only being in this filthy, dusty environment all day long, but all night long as well. I would not recommend camping out for an extended period at a worksite.
I'm on my way to the ferry dock to pick up Russ…and take him straight to the Beach Bar instead of straight to the house. Everything always looks better after an hour or so at the Beach Bar.
April 26, 2006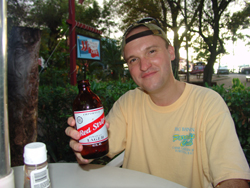 Russ gets a first look, and likes what he sees. I have someone besides the tree frogs to talk to at night.
The ceiling fans also arrive. It looks like two more than we need. Better than coming up short.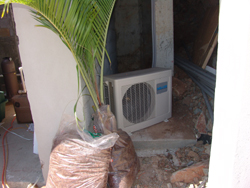 The A/C units are all installed and connected. We tucked one under the house and another well behind it to minimize noise.
The turtle handles in the kitchen look pretty good. Some things have been easy.
April 28, 2006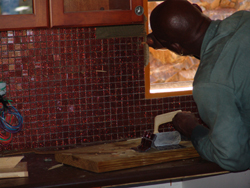 One of the bathroom counters has been broken. It's obviously from someone, or many ones standing on the lip of the counter. There is no way to repair this kind of thing. The whole counter will have to be ripped out and poured again.
The glass tile for the kitchen backsplash is going up. This is a quick operation. We'll use black grout.
Progress elsewhere as well, but watching incremental progress has become torture. We hear there are beaches on this island. We're going to look for one this afternoon.
April 30, 2006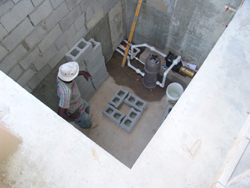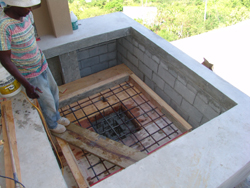 The hot tub has become a major folly. Four guys spent all day Saturday and half of Sunday forming up a column from beneath in the pump room to support it, filling it with steel and concrete, forming up a pad for it to sit on and filling it with concrete. This hot tub will cost upwards of $16,000 by the time it's installed, which Russ points out was more than he made in a year at the radio station he worked at first year out of college. The hot tub was supposed to be carried up to the house by 6 guys, but it was loaded on the bucket of a back hoe and lifted up instead. I am SO glad I wasn't there to see that.
May 1, 2006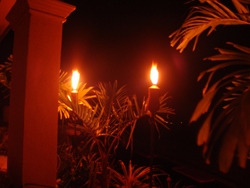 The Schnell sconces aren't up yet, but they will look really great against the stucco when they finally are. It will be nice to have real lights at Bongo Bongo. For two weeks I felt my way around in the dark with the aid of Tiki torches from the hardware store. Nice ambience no doubt, but it felt like I was a cast member of Survivor. We're both back in DC for a couple of days. Me pacing back and forth in front of my boss' office to perpetuate the illusion that I actually still work there. We're days away from the 14 month anniversary and I just saw on the news that the Empire State Building turns 75 years old this week. It was built in 13 months. THE EMPIRE STATE BUILDING was built in 13 months! Let's finish this house already!
May 2, 2006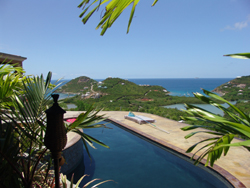 This huge and beautiful inlayed dining table (Lane Venture, North Carolina) is just one of many pieces of really fine stuff, if I do say so myself, we bought for Bongo Bongo. Our furniture has been moved so many times since being dumped on the site that I am sure it has traveled more in the last six weeks than it did from Miami to St. John. Big tip. Don't be stupid about furniture like we were. There IS NO HURRY to get it there. Furniture manufacturers, unlike H&W Distributors, are apparently good at getting stuff to St. John when they say they will.
A blog reader who is building in Coral Bay points out that if the Empire State Building was built on St. John, they would only be up to the 39th floor by now, and Kong would be laying on a beach with a spliff in his paw.
May 3, 2006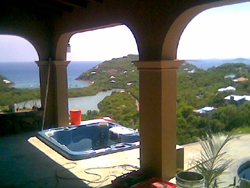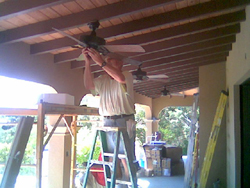 St. John's most expensive hot tub is now in place. In theory, a few things get connected, water gets added and voila…bubbles. (If not, Russ and I will just hide in the pump room and when guests turn the hot tub on we'll grab a couple of pipes and blow really hard.)
Three ceiling fans down, 14 more to go. It's actually a good thing that there's so much concrete in this house. Otherwise, if somebody turned on all the fans at once, it would probably start rising off the ground.
May 4, 2006
The final grading is well underway and it looks like they're digging out more of the hill to get the fill dirt, which means that back patio may turn out to be a usable space after all. We'll grade for the driveway and hope for concrete. It is flowing again, so we hope we're near the top of the list. We'll also just gravel the top turnaround and the space behind the house because that is really all we can afford right now. (Well, actually what we can "afford" is sawdust, but that's a little impractical.)
Builder's email list today of what's getting done included the word "cleaning", and that's got to be a good sign this is winding down. Right? RIGHT?
May 5, 2006
I'm going back tomorrow. Flying Spirit Air because my US Airways flights were sold out. Guess you run that risk when you try to buy a ticket a day before you go!
See that fish up there? We bought that fish at Pink Papaya in June, 2002 after closing on the land. We gave it to a friend and asked her to keep it until we had a house to put it in. After eventually starting to call our house "Villa Mirage", she decided to stash it in a storage locker. I retrieved the fish last week and took it to its home. I should be all sentimental and retrospective and stuff, but frankly I just put it up there and said "There, you bastard."
May 6, 2006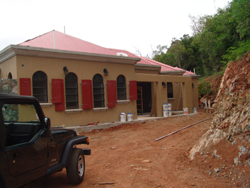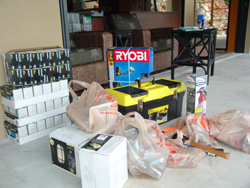 Things look good. I like the shutters. They need a little touching up, but they look good. I like the grading behind the house, and there is definitely a back patio now. I stopped at Home Depot to pick up a few tools to keep at the house for us and a few light bulbs. Oops. About $630 later, I leave with a toolbox full of stuff, cases of bulbs, and who knows what else.
May 7, 2006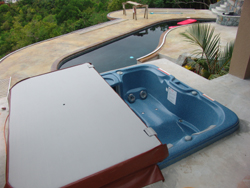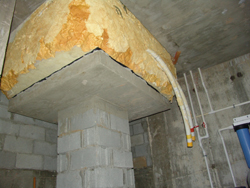 They got the hot tub in after all. It looks nice and inviting from above…and pretty scary from below. I made a list of all that is left to do. It is long and daunting, but a doable list. If we can get a full and undistracted crew this week, we could probably get most of it done.
Landscaper says she can't finish once rainy season starts, and it's raining this afternoon. It'll pass.
May 8, 2006
One of the three cisterns leaks. And since there is a block wall in front of the cistern wall (supporting the sundeck) and the water's leaking through that, it appears to be leaking pretty badly. This is not something that will hold up completing the house, but it is something that needs to get fixed. Just one more thing to worry about.
Jim Hall has ripped out the broken concrete counter and is pouring a new one already.
May 9, 2006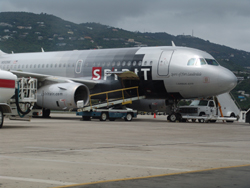 Everybody's got this week's work list. In our absence, the property manager is checking progress for the next few days. We're down to little things…like missing A/C vent covers. Doesn't sound like a big deal, but that's the kind of stuff that holds up inspections.
My Spirit Air experience was largely uneventful, with the exception of the Ft. Lauderdale to DC leg. Air Force One decided to use the Ft. Lauderdale airport, delaying everything for about an hour. Hail to the Chief.
May 10, 2006
Two people at work this week that we are VERY happy with.
The landscaping continues and Josephine has been one of the people who has been great. Don't know how it's all going to turn out, but we basically gave her total freedom (and a budget) to do whatever she wants.
And the guy doing the final grading, Matthew St. Luce from St. Thomas, has also been fantastic. We shook hands on a fixed price for what he is doing, and it's pretty amazing what this guy and his track hoe have been able to do to clean up the driveway, turnarounds, and hills in front and behind the house.
May 11, 2006
"Hey, anyone seen that hacksaw?" "Ya, mon, I think it's under the cushion of that $700 chair I was eating my lunch on yesterday."
I swear this furniture is purposely defying all attempts to keep it safe. Before we left April 30, Russ and I rounded it all up again, covered it in plastic and TIED IT DOWN. When I got there last weekend, it was miraculously unwrapped (and even taken out of its factory wrappings this time) and arranged, very oddly at that, all around the house. The furniture obviously wants this to be a house. Must be Jumbies doing this in the middle of the night, because nobody sane would keep dragging it out. Hmmm. Sane. St. John. Sane…St. John. Okay, not Jumbies.
May 12, 2006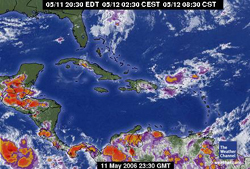 H&W Distributors takes the cake as the biggest loser in this whole project. After weeks, actually months, of promising a couple of sinks would be "on next week's container", and more recently even agreeing to fly them down, H&W says they don't have them, and they're special order. We'll work around this, and we will avoid H&W like the plague if we do this again.
It rained like mad today, canceling both Matthew and Josephine for a day, but our growing circle of guardian angels is forcing the final push. There are VERY GOOD people on our side.
PS: Google H&W Distributors. One of the first pages that comes up is the "about us" page, which says "We've built our reputation on outstanding customer service." One of the next pages that comes up is the Bongo Bongo blog, where we complain about their lame service. Don't ya love the Internet?
May 13, 2006
We bought more stuff this week we realized we didn't have, and timed the shipping so it'll get there when we do. We did the same thing last week. This is one of the problems of doing a house from scratch. You wake up in the middle of the night and say "Oh no! We forgot to get this, or that.." There are probably some little things we've overlooked. Hopefully the first few guests will be forgiving, and make a list for us. Maybe we should just leave a Visa card at the house and they can fill in the blanks for us. (Between the two of us, there may be a card someplace that isn't max'd out yet.)
We've been renting villas for 6 years, so we're trying hard to get this right, based on our own experiences. Right down to the L.L. Bean beach towels. Cheap beach towels always seem kind of tacky.
The Mail Center people are pretty cool. A couple of times they've even hauled stuff out to my truck for me. But we should have paid the $139 for our own personal mailbox. Mailbox customers don't pay the $10/package holding fee, and we've spent nearly three times that $139 in holding fees.
We'll both be back in a few hours. Can't wait to see what we see.
May 14, 2006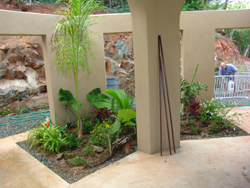 More landscaping. A lot more landscaping. More than we thought the budget would buy. The dining room garden also includes two big elephant ear plants that we got for a housewarming present. The best part about showing up this time was that there was power to the house. No more extension cords. The place glows at night.
May 15, 2006
Tough decision today. Without the sinks, we're sunk. If we wait for the sinks, the house won't get done. So, plan B. Russ and I went to St. Thomas, bought four new sinks, a whole lot of tile and new fixtures, and we're going to fill in the openings in the counters to fit the new sinks…..and tile over the concrete counters. Two counters for the price of four. What a bargain. The tile is actually pretty nice looking, so there's not much grieving over the decision. It will be done in a day.
"Running over" to St. Thomas bites. You might as well write off the whole day.
May 16, 2006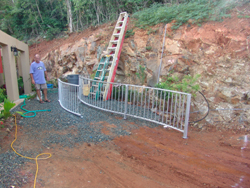 The curved portions of the railings are going in. All railings should be up by the end of the day.
The appliances are all set, but not plugged in. That means we still haven't been able to throw the ceremonial six pack of Red Stripe in the fridge. Waiting for word on getting a driveway poured. The final grade of the driveway is an easier drive than we expected.
May 17, 2006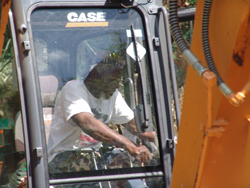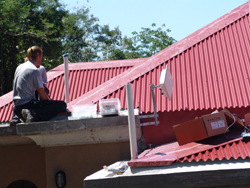 This Matthew is fantastic. He invited Russ and I to his house on St. Thomas last month and he and his wife took us to a club and then to Carnival, (we're not too old for that…we were WAY too old for that), let us crash at their house and then fed us breakfast. He's a track hoe artist,and he's getting us a very good deal on the driveway pour.
Ackley Communications from St. Thomas came up today and hooked up the house for broadband and VoIP phone service. They use a line of sight dish and as long as you can see St. Thomas, it will work. Does it? Well, I'm updating the blog from Bongo Bongo (fairly good connection), and Russ is on the phone checking his bank account. (I hope he hangs up smiling.) I don't know what to do with the Innovative phone service we also have. Guess we'll keep it long enough to know if Ackley is reliable.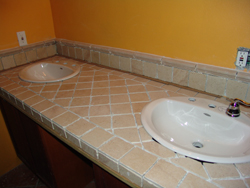 We realized today that this is the THIRD bathroom counter we have put in. The tile looks mighty fine though.
Today we finally started getting the run of rooms for setting up. It took more than two hours just to put the beds together. We kept laughing about the white glove service Functional Furnishings promised.
It's been insanely frustrating here this week, and we'll eventually lay out every ugly, chomical detail, but not now. We have a house to finish, and we're just about there.
May 18-22, 2006
Time to do some catching up. I was flattered to come home last night and crack open the email for the first time in a few days and see all the "where are the blog updates" emails. I guess I have a responsibility! Here are a bunch of pictures, and some silly commentary about what was really one of the toughest weeks I can remember in this project..
The railing guys came through, and did GREAT work. We couldn't be happier with the way the railings turned out. Especially that top one. It has this really sexy curve to it and really sets off the two level deck.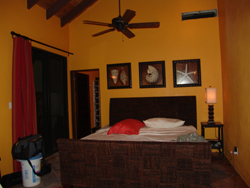 We busted our butts this week, not only running errands (St. Thomas THREE times) and solving problems, but also trying to put a home inside the shell. The bedrooms both turned out pretty cool. They're each different, but I don't think anyone is going to think the other couple got a better deal.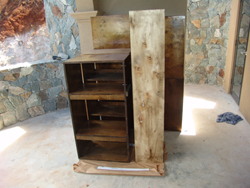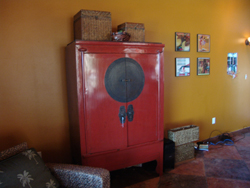 One crisis was the "custom made" wall unit. A so-called furniture maker assured us he could build a wall unit we showed him in a Pottery Barn catalog EXACTLY like it for a lot less. (How did we miss That red flag?) When it finally arrived, it was the most hideous thing we'd ever seen. Exposed plywood nailed together and poorly stained. You'd get a "D" if you made this thing in high school shop class. We refuse it…and then scramble for a replacement. We got a good deal on a cool 19th century Chinese wedding chest at Lifestyles in Red Hook, and then bought a TV to fit it. Sony Wega 27 inch at Pricesmart. Great picture, low expense. The plan was a flat panel. The plan was made when we had money.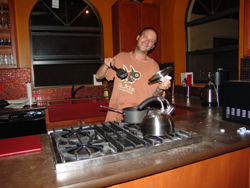 We were told we got trashed on the VI Now travel forum for canceling the first guests. I haven't had the stomach to read it. For a house that was supposed to be done in DECEMBER, taking bookings for the first of May seemed like a no brainer. We were wrong and take full responsibility, and we are truly sorry if we ruined someone's trip. We did all we could to make it right.
As I suspected, the Viking range needed a little adjustment. Propane is fun when it's shooting through a natural gas orifice. Too bad we didn't have marshmallows. The plumber makes the proper adjustment and it works fine. I let Russ cook the first meal on the Viking. A grand gesture on my part, but since dinner was a bag of frozen pasta and vegetables, I wasn't about to be part of that blaspheme anyway. More pictures, and more pain tomorrow.
May 23, 2006
We got a couple of really nice emails today from folks telling us the VI Now thing wasn't that bad, and I read it and it really wasn't. Obviously it's no fun to be the person who upset the poster. It was nice to read the posts that kind of came to our defense. We also got email from the very first renter canceled, who says he's still reading the blog and hopes to rent the house in the future…and he signed off "no hard feelings." That was totally cool and it kind of made that part of the past month tolerable.
Okay, can I ride the emotional rollercoaster one more time today?...Because I think I only ALMOST threw up this time.
Our first dinner at Bongo Bongo was simple and brief. (Snooooooozzzzz.) But the outside dining area is really great.
This house, as we designed it (okay, John Maize designed it but we drew it!) is all about "outside." The covered outside space brings a small 2 bedroom house to about 2800 square feet under roof and another 1100 square feet of outside deck. And the front of the house, (or back depending on your definition) also came together really nicely. There is a quiet little patio back there and it was money well spent to make the space. "Money well spent." If that isn't just the funniest thing.
May 24, 2006
All ideas start someplace.
This is where Bongo Bongo started. On a piece of notebook paper one night at a house called Paradise Revisited in a Margarita haze, in the summer of 2002, right after we bought the land, this was Russ' first rendition of what kind of villa we wanted to build. The arches are there. So is the cool railing. I think that was supposed to be a table with an umbrella and chairs.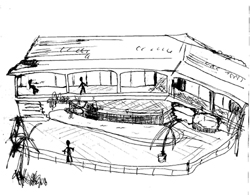 In summer 2004, right after John Maize faxed his very first draft of a floorplan, we used our imagination and sketched out this less-horrible drawing so we could get a feel for what it might look like. The long veranda, the arches, the two level deck, the big wrap-around swimming pool…the drunken stick people. We weren't sure if something like this would fit on a lot with a 30 degree slope. Turns out, anything on St. John is possible (with enough concrete and steel as we learned.)
I'd say Bongo Bongo has turned out pretty much like we planned. Well, except for the money part.
May 25, 2006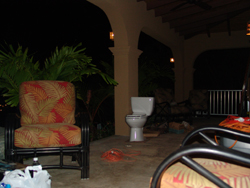 Have a seat. No, not that seat. That's the seat all of our money has gone down.
We just got what we hope is the last major bill from the builder and it was, again, stunning. If and when we post the bid price and the actual build price, anyone reading this blog will be appalled. (Cute little "we'll be 22 percent over budget" blog entry a few months ago. What suckers we are.)
The money side of this is a real pressure cooker. We have repeatedly told the builder that there is no more money from the bank until the house is finished. Twice in the last month we have somehow found more of our own money to give him just to keep it going. Is that right? Hell, no. But subs will walk off the job if they don't get paid, and that doesn't finish a house. We have set aside enough to pay for the driveway and I swear THAT IS IT. Every pocket is now emptied out.
We have been paying a construction loan all these months, which is now quite sizable, with no rental income to help offset it. And we have dumped everything into the difference between the loan and the build price, and that chasm continues to grow. Add to that a 12 month build that is now on month 15. AND add to that the incredible pressure from the management company to get guests in the house and the responsibility that goes along with that. All the while, being totally consumed by this, and kind of going zombie-like through your real lives. The last few days have SUCKED.
I'm telling ya, if you're filthy rich, in no hurry, and enjoy blowing your money with reckless abandon…build a house on St. John. If not, keep renting.
With any luck, guests will be enjoying this place very soon. And a whole lot more than we've had the chance to yet.
Wow! My therapist would be proud of me tonight! (My therapist is about 10 inches tall. And she's ice cold. And she fizzes when I pop her top. Gotta go...it's going to be a long session tonight.)
May 26, 2006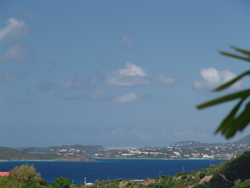 There was SOME good news today. The electricians have promised to work Memorial Day Monday (believe me that's a big deal). And, the patio furniture was delivered. We were told it "usually takes about six weeks." It took eight. And that's not bad, and we have nothing but good things to say about the place that ordered it for us anyway (Silk Greenery in St. Thomas. Neat store. Good business people. Grabbed some other stuff from them too.)
Having St. Thomas in our view is a bonus. Not that big of a deal during the day, but when it's all lit up at night, it is so pretty.
Black pedestal sink and toilet in the half bath, and of course there were issues. The fixtures for that sink also ended up being AWOL. We bought a cheap 4 inch spread faucet at St. John Hardware, only because it was the only 4 inch spread faucet they had and there was no way we were going back to St. Thomas. We'll order what goes there…for the second time…take it down and replace the cheap one. It will work for now.
You can't tell from the picture, but those are some really nifty vintage 1950's era St. John postcards we had framed. Have I mentioned Frames of Mind at the Lumberyard? These guys have been GREAT. We gave them tons of business, and they turned stuff around in a couple of days each time. And they have a pretty good selection of in-stock framing material.
Silk Greenery. Frames of Mind. Two more for the Good Guys column.
May 27, 2006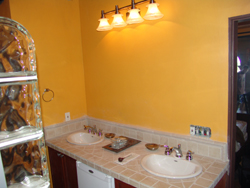 One of the best moves made was buying replacement sinks and tiling the bathroom counters. They look absolutely great. This also was not without bad luck. We bought plenty of this tile for both bathrooms. But Ruddett, the guy who did the tiling, came up with the idea to put the tiles on the diagonal and to add the backsplash with bull nose. Which required more tile. MSI told us the day we bought the tile they had plenty. The VERY NEXT DAY, somebody bought out their entire remaining stock of it. We ended up buying the same tile in 6" squares, and cutting it down to 4" squares.
Per the builder's request, we changed the May 25 blog entry to reflect 12 month build, as stated in the contract.
May 27, Random addition, 2006
Did you know Marlo Thomas is almost 70 years old? What does that have to do with Bongo Bongo? Bear with me. I'm at the desk. Russ is watching Tim Russert. And there she is. Marlo Thomas talking about her book. And I stop dead…because Marlo Thomas is one of the most beautiful women in the world to me. Her, and Susan Saint James who is now 60. Anyway, I have these flashbacks to being a little kid watching re-runs of That Girl! and McMillan and Wife and I realize that for a couple of guys who grew up in Iowa and Nebraska we have done pretty damn well. It is tough right now… but these bills will get paid and renters will get in. And we WILL get to enjoy our house. Russ said this morning, "Tall ships were meant to be on the open sea, not in safe harbors." To which I said "Shut the hell up." But still. He's right. We're out there. We WILL finish this. So what does this have to do with Marlo Thomas. Nothing. I lied. It's a blog and I'm under great duress. Sorry.
May 28 2006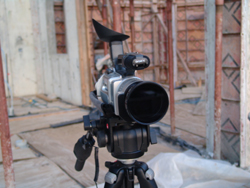 Here's a little video experiment. I don't know why we haven't posted video before now. We have hours of it, from day one bulldozer. I'll post some fun timeline video. That'll keep me busy for a few days.
In the meantime, here is a first peak at Bongo Bongo in moving pictures. The quality is pretty bad, and you'll need Windows Media Player to watch (which you probably have if you're on a PC). I might convert future videos to QuickTime.
Also…we shot this two weeks ago, and Bongo Bongo was definitely not ready for his close-up. Dirty and not entirely set up. But here you go anyway.
Click here, or copy and paste www.bongobongostjohn.com/blog4/video/bongopreview.wmv
May 30 2006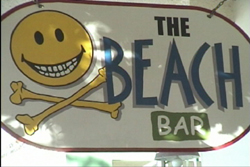 I love the Beach Bar. It is one of the few places I know of where we both agree we can escape the stress of the world we left behind. Just sitting there….staring at the water, listening to music and watching the characters come and go. Unfortunately, it doesn't work right now. We've tried it a couple of times. Bongo Bongo is right over the hill, and it's hardly in a world we left behind.
I found this clip from a video we made that's a few years old. Repeat visitors will know it's old. Note the gray dinghies that Noah's Little Arks rented. (New ones are yellow.) And note a sailboat called CamRita. A cool, old concrete and steel boat that sat leaking and rusting in Cruz Bay for a long, long time and then disappeared.
Anyway, while it has nothing to do with the current Bongo Bongo saga, know that this is the place where many Bongo Bongo plans were made. And maybe 60 seconds or so at the Beach Bar is what somebody else needs right now.
May 31 2006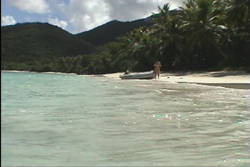 We had to sign paperwork for the C/O and get the architect to do the same this morning, and that is a very good, good thing.
Cindy and Paco at Carefree getaways have been bending over backwards for us, and also for the renters that got cancelled. Just had to say that.
I was going to post video of our first walk up to our tree house, but I've never gotten so many emails as I did from the Beach Bar video. So, while the blog is about building a house, I'm more than willing to divert attention for a couple of days to the stuff that made us want to build it anyway. Here's a minute or so of beach hopping in a dinghy. If you haven't rented a dinghy for a day, you've gotta put it on your to-do list. If you have, you know what I mean.
(PS: If you rent a dinghy from Noah's Little Arks, the orientation video you have to watch was produced by your good friends here at Blue Tang Productions. That was a FUN project.)
June 1, 2006
Holy cow! This blog had 1,397 unique visitors yesterday. I haven't checked the stats for a few weeks, and I was totally amazed. Who ARE you guys? That's pretty cool.
News from Bongo Bongo includes water that was in the fountains, and now no longer is. The driveway forms are up. The meter was getting installed on the monument and the power lines fed down the hill to it. These are all good things.
We call today's video Lunchtime for Pelicans. This was shot at Little Cinnamon Beach. In the background you can occasionally hear the sound of a back hoe hammering away at a worksite somewhere in Peter Bay. Just think…every rat-a-tat-tat is money. A hammering backhoe pounding away at rock goes for $300 an hour. Been there. Done that.
PS: Today was the official beginning of hurricane season. Just sayin'
June 2, 2006
Today was a series of faxes to, and faxes from here, there…all related to finances. I wouldn't say that an actual "calm" has come over us yet, but it's more like a "think we'll make this work" feeling. Which is what's been keeping us up at night lately. The last few weeks have just tapped us out. My once golden 759 point FICO score has wilted to 666. (Gee, could it at least have been 667 or 665? Did it have to be 666? Spooky.) Russ' however, hasn't changed. Hmm. He's holding out. He has credit left. I need to grab him by the ankles and hold him upside down and shake it out of his pockets!
A good friend of ours says she dreamed she and a bunch of people put on a telethon to raise money for us, and they called it a villa-thon with us appearing via satellite from St. John. I'm all for it! I'll sing, I'll dance, I'll do magic tricks. And I'll take the microphone and tear up when the tally board hits the goal. Maybe Jerry is even available.
I don't know why anybody else would care about this video. No pretty beach shots. It's something we shot the day we got our first look at the tree house we had built.
June 3, 2006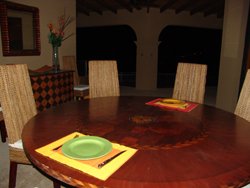 The Adirondack chairs we ordered were delivered today. Just two of them with a table. They're for "Jeff's Back Patio" which, despite everybody's sniggering and despite the money we spent to create that space, is actually a good place. In late afternoon when the sun's beating down on the pool area, it is a shady, cool place to hang out.
We gave up waiting on the rest of Chef's catalog order, which ended up with a few things missing, including dinner plates. For a quick interim replacement we grabbed some Martha Stewart stuff at the St. Thomas K-mart (the jail bird actually puts her name on some pretty nice stuff.) Chef's catalog agreed that, after 9 weeks, the missing stuff was AWOL and agreed to resend all that didn't make it to St. John to our Washington address instead. After a week or so, I call today 'cuz the stuff's not here and, sure enough, they just resent it to St. John. They agree to send the stuff one more time to me in DC, which is fine. But I know exactly what's going to happen. I'm eventually going to end up with 32 dinner plates. Well, guess that's okay just in case somebody has a Greek wedding at our house. They won't clean us out.
June 4, 2006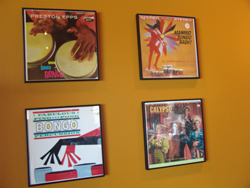 We are seriously hoping for some major league closure this week. The electricians have wrapped up their business. The certificate of occupancy is in the works. The driveway is still set to get poured this week. We're expecting word on our refinance in a couple of days.
Joesephine, who calls me about every day with house updates because she's up there watering, says the bougainvillea she planted has already doubled in size.
Michael, our good friend and Blue Tang Productions' world-class graphic artist, gave us the coolest art for Christmas. Vintage "bongo-themed" record album covers that he hunted down and had framed. My favorite is "Mambo Bongo Bash". There are actually records in there, which we're dying to hear. I haven't owned a turntable since, well, since I was as broke as I am now.
June 6, 2006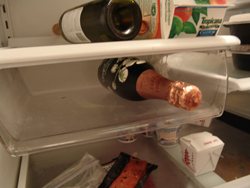 There has been this 7 year old bottle of champagne that we bought when we closed on the land that has been sleeping in the frig ever since. It is, of course, now approaching its 10th birthday. It has been saved for Bongo Bongo's inauguration. We're getting on a plane Saturday and going down. And we're coming back Sunday. Sunday is a very big day. We've decided the champagne is now for Bongo Bongo's first guests. And, we're taking the bottle with us. If it gets popped this weekend, it is worth not having it cross my lips. They'll not know the bottle's history, but hopefully they'll have some class and say something like "Holy shit! These guys have great taste!" (Do not expect a '96 Perrier Jouet bouteille de fleur every week. We have a line on a case of Martini and Rossi.)
June 7, 2006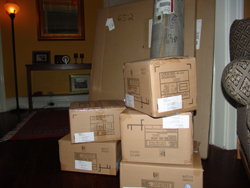 Oh for the love of Mary!
Stop with the boxes already. Just when we're all content and happy that this "day trip" to St. John would be quick, easy and mean only one carry on between the two of us, and half full at that (Hey, I've gotten 3 days out of one T-shirt lately), tonight a flood of missing stuff for the house shows up here in D.C. It's too late to Express Mail it (Mail Center closes at noon on Saturday, a couple of hours before we'll get there) so we're going to see how much of this stuff we can fly down as checked baggage. That'll be a first. We have prided ourselves on being the cool guys who, huff, DON'T check bags.
Oh well. Other folks who have villas have already warned us that trips to St. John from now on will actually be mule runs to bring in supplies, and a week's worth of house projects once we get there. I don't recall planning on any of this when I was standing waste deep in warm water at Gibney Beach fantasizing about someday owning a villa on St. John!
June 9, 2006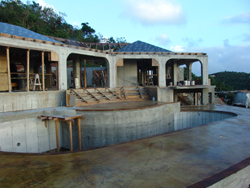 March 3rd picture, and May 21st picture. A June 10th picture coming soon.
Neither one of us is particularly excited about this trip. The house is done, but it's not done. We want to see it, but we don't. Just pretty sick of it all right now.
We'll unpack the patio furniture and set it up. The electrician pulled all the speaker wire, so we'll try to mount all the speakers, eight total, and get the stereo hooked up. Whatever else we can think of, we'll get done.
This blog will continue for a few more weeks for sure. Like Broadway playwrights, we now nervously wait for reviews. And the punch list. And, I think the blog has to evolve into something else after that. Or maybe a brand new one. Boy, do we have stories to tell. And, we've got hundreds of hours of video too. Maybe a vlog is next…
June 12, 2006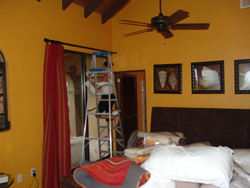 BULLETIN: BONGO BONGO'S FIRST GUESTS ARE IN.
Young honeymooners who sent us e-mail about a week ago and sounded really excited about their trip to St. John. Excellent inaugural guests. Still upset about those that weren't though.
It's also a milestone for us, as the cash is now officially flowing the other direction. But this project is far from autopilot.
We heard lots of stories about "the day the first guests arrived." Seems like everybody was telling us stories about cleaning this and fixing that and doing this right up until the very minute the first guests arrived. Oh man! The stories are true. Picture on left: 9am Sunday morning. Picture on right: 11am Sunday morning. Same throughout the day for every room in the house. We ran the dishwasher for the very first time ever at 10 in the morning (it works.) 4pm: Showtime. We left a couple of hours before the curtain came up, but a cell phone call tells us they are happy and love the place. WHEW. Let's see how they feel after a week.
On the plane, we were just guessing at the guests' ages, but assuming their in their mid-20's, that means they were in 9th grade when the champagne they drank last night was put in the bottle.
June 14, 2006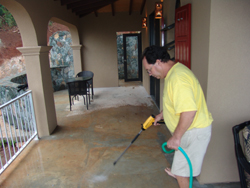 Hey! It seems we've already gotten our first review. Sort of anyway. A posting on one of the travel forums by the very last guest to get canceled, who could have really trashed us (they were honeymooners to boot), but didn't. Here's an excerpt:
Carefreee did find us a replacement that was nice, but was no Bongo Bongo. We were able to visit Bongo Bongo any night after 5pm when the workers left. What a beautiful villa and view! The furnishings inside are lovely, very bohemian.
Bohemian! That's excellent! (I mean assuming that was meant in the artistically different and unusual way, and not the pierced nipple way.)
Here's Paco power washing the veranda at noon on guest arrival day. Paco and Cindy at Carefree, and their whole staff, have been so amazingly incredible and have basically taken over. "Do this! Don't do that yet! That needs to get fixed NOW!, That can wait! I'll go get this! You need to do that!" Which is good, because they stepped in at the very moment that we basically went "Blaaaaahhh…can no longer think…St. John evil…..Must sleep…"
June 15, 2006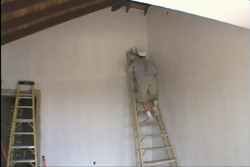 I got a letter from a credit card company today saying they raised my interest rate because I went over my credit limit. It's like college all over again. We have GOT to get the financial ship righted and soon. We need to get our last draw from First Bank and we need to close on this refinance. Just a little bit of paperwork is holding all this up, and unfortunately it's paperwork down there. The builder has gone to the wall for us on this, and God knows he wants to get paid, but this part is now out of his hands. I stare at the ceiling at night sweating this.
We shot hours of video during this project, and we produced monthly installments of its progress. We re-watched some tonight and kind of got back in the "this has been fun" mode. Here's an excerpt from the March installment. We did most of the painting. The idea originally was to SAVE MONEY. In retrospect, the few thousand dollars we saved is pretty insignificant. But we did, at least, have fun doing it. Our walls, like almost all in St. John construction, are all Durock, with two coats of old-fashioned plaster on top. It's just "the way it's done."
We have never been color shy, which will turn some people off we know. We've gone over the top on colors with every place we've done. We once painted an entire loft gun-metal gray. It was so cool. I have a friend whose dining room is jet black. Anyway, not to bore you, but here is me painting.
June 16, 2006
Hello loyal Bongo Bongo blog readers. Blog 4 is obviously huge, as became Blog, Blog 2 and Blog 3, so it is time to start a brand new page. And we'll lead it off with something that is sure to entertain, if even for only a minute or so. So off we go to Blog 5.
Go here, or bookmark www.bongobongostjohn.com/blog5.
Oh what a ride Blog 4 has been. Here's to a nice, soft landing somewhere in the future on the page that follows.