We're just a couple of guys from Washington, DC building a house on St. John. Sounds simple enough! Guess we'll see about that. So ... here's a running timeline of the progress on our Bongo Bongo St. John blog.
Talked to the builder this morning, who says "the site is rockin'." (That's better than "Half the crew is stoned and the other half didn't show up," …and there are plenty of owners who, unbeknownst to them, that's the case!) Sunnyrock's guys DO show up and they DO work. But we still don't have the stupid concrete columns…just three of them…that are holding up work. They support the covered dining area roof, and without them, the crew can't finish that last stretch of roof. We have been waiting on these columns from week to week for literally months now. Time to rally the blog troops! Call H&W Distributors in Pompano Beach, Florida and scream into the phone "Where are Bongo Bongo's columns!"
Every week, it's "They're on the container arriving Wednesday." Every Wednesday, no columns. It's getting ridiculous.
Steve says red metal began going on today on the rest of the roof anyway. And, plaster work is humming along.
There's a picture that made our day. Red roof going on. And you can also see the little flourishes on the columns are now in place. Those are not concrete. It's a composite material that will be covered with stucco along with the columns. And, you can ALMOST see the finished fountains, although Steve "Andy Warhol" Hendren's artistic composition leaves that to the imagination.
Wednesday has come and gone. Were there columns in this week's shipment? Holding our breath.
I called H&W Distributors myself this morning. More excuses, excuses. And a guarantee that the columns (and now, the way overdue windows) were being put on the trailer for shipment "as we speak." Due for delivery Tuesday. (Uh-huh.) I'm looking for the guy who steps up and says "Yep…it's me. I'm the one screwing you over with my incompetence." I'd respect a little straight talk like that.
There's a better picture of the finished fountains. (Do the workers looked posed? Does it seem like it's the same three workers in every picture we've been getting for a year?)
Oh no! it's a Potemkin Village! I had this dream (nightmare) last night, that it's all fake! That Steve Hendren is a master at PhotoShop. That we are owners who visit once a year, and this whole year-long project…as we've watched from afar… has been nothing but pictures of a series of well-crafted scale models with papier mache' workers skillfully placed amongst them. And that 429 Traveler's Trail is actually nothing but a dirt hillside. I've GOT to tell the doctor that this Ambien was a bad idea.
Wait, wait. Just a dream. BUT... speaking of potential nightmares... I called Appliances Plus today, just to double check. Whew. Appliances are due for delivery week after next. Cabinets are already on site. Jim Hall is supposed to be in this weekend doing the interior floors.They (should) turn out pretty cool.
Today, March 5, 2006, marks the one year anniversary since ground-breaking on Bongo Bongo. At least we have a place to sit now. Obviously, our sense of style and fashion hasn't improved. (But, at least a year ago, we both had money and could've walked into Brooks Bros. and done something about it.) And, what's with that Markie Mark grabbing pose?! Oh ya, that's when I still had them.
See that hole in the ground? We should've stopped then. "I wish I could quit yew!" (Heath Ledger will play me in the Hollywood version of "Flat Broke-back Bongo").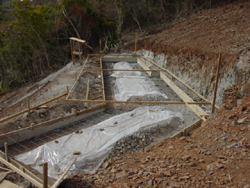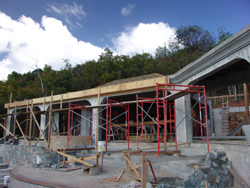 March 6, 2006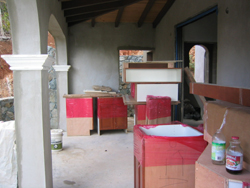 We just joined the long list of people who have done this who have earned the right to say "it took over a year". Okay, well, just a day over a year for us, but we're not done yet.
The kitchen and bathroom cabinets are all on site and waiting for installation. The finish looks beautiful. And, we can't believe it, but the floors…now getting cleaned from the plastic and plywood that was supposed to protect them…actually appear to have survived intact. Even if there are chips and dings, some of that can be patched and the rest we'll just chalk up to character. The most logical way to have done this would be to plan on going back in with a second layer of thin-crete, but that adds $3/square foot...so if we cheated harsh realities, great. We're going for the stain. Excellent.
We actually have a serious inquiry about buying our gutter forms. Hmm…let's see…how about A MILLION DOLLARS...
March 7, 2006
We just blew past the REVISED budget with billing to date. Another conference call this morning, and the news is, yet again, breathtaking. Remember when the builder said "No more surprises"? Well, SURPRISE. At this rate, we will now be 45 percent over the original budget. And, it is a quite staggering number.
Material costs continue to escalate. (Rebar alone has doubled in price since we started.)We spent a fortune on labor for those gutters. The site is swarming with bodies, all collecting a paycheck, to get this place done quickly. We made a couple of poorly-informed decisions. There was very bad communication on a thing or two. It is not just one big thing, but a series of smaller things all piling on top of each other.
This really must be the most complicated, expensive 2 bedroom villa ever built on St. John. If there is one thing to keep the energy positive, it is this: Bongo Bongo is turning out to be a pretty stunning place.
Next installment: If Bongo Bongo was a battleship, you couldn't sink him...but then again, he sure wouldn't float.
March 8, 2006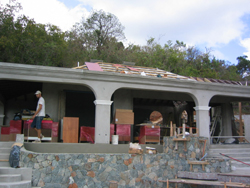 If we forget how much this is costing for a minute, there are some amazing facts in our numbers. Bongo Bongo has 460 cubic yards of concrete in him. That is:
-The equivalent of more than 1.8 million pounds of concrete.
-Enough concrete for a 3 foot wide sidewalk that is 3.1 miles long.. or enough to go from Cruz Bay to Red Hook.
There is 28 tons of steel (rebar) in this house. Rebar was $675 per ton in Dec. 2004. By Dec. 2005, it was $1,075 per ton.
Because this house is so heavily-laden with big beams, columns and footings, our concrete cost (with labor) has averaged $786 per cubic yard. That means $362,000 of concrete.
Our average cost per square foot has worked out to $316 per square foot. And, as outrageous as that may sound, that's pretty much in the middle of average building costs on St. John right now. At least that's how we're spinning it so we can sleep at night.
March 9, 2006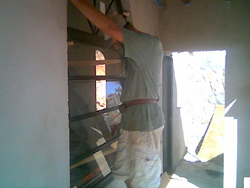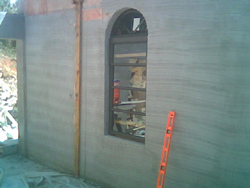 Well, well, windows. Finally. Almost 7 months after ordering them, they do indeed show up. We are SO glad we found awning windows, even though they apparently sat at H&W for months before they got there.
We're playing a delicate game with when to send the bank inspector up. His call is the difference between 90 percent complete and 87.5 percent complete, and that's the difference between paying what is owed with bank money, or digging through the sofa cushions to find more of our own money. We'll request an inspection middle of next week. This has seriously become the Great Race for us.
Good news! I'm not quite done with the magic calculator and I'm just guessing at the weight of wood, Durock, stone, tin, cabinets and appliances…but I think Bongo Bongo will come in under at 45 cents a pound. You can't buy bananas for that!
March 10, 2006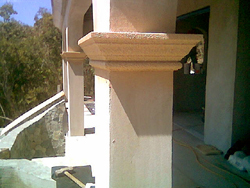 The Total Wall stucco finish is going on, and we're a little nervous about the color. Our color, "Sandalwood", should be a kind of khaki color. Steve's cell phone camera has always leaned toward pinkish tones, so we're hoping the color is more true to the sample.
This weekend we're going "less than container" shopping. All the big and little stuff we still need (from chaise lounges to umbrellas to pots, pans and dishes, rugs…the list is really pretty huge…) We're going to try to order by phone from major chains in Miami. They, in turn, are supposedly well-versed in getting what we buy to Tropical, and then on to Sunnyrock as "less than container" cargo. Jonathan's advice. He swears it should be easy to get done.
At any rate, time to dig out the plastic. Time to BE AN AMERICAN! Credit Card Debt! Support our House of Cards economy! (Bongo's too.)
March 11, 2006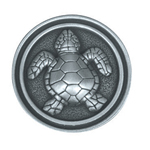 We tried to investigate the less than container thing this morning, but kept hitting dead ends. For one thing, it was the weekend crew everyplace we called (the oldest manager I talked to I think was about 17) and all were kind of clueless. Also…thanks to a couple of readers who sent us e-mail warning us about the risks of LTL (it should be LTC shouldn't it? It's not.)
At any rate, we gave up for now on the patio furniture idea, and went with Plan B for the other stuff, which was to use some of the catalog places that folks on St. John have told us ship direct and have a good reputation. We went online, and 8 blurry-eyed hours later we had knocked off a lot. (I also think my FICO score just took a HUGE nosedive.)
BB's kitchen will be better stocked than my own…everything from Wusthof knives to a candy apple red spaghetti strainer. Tons of high-end bedding and, as you can see, our contribution to corny island motif (a TON of frog, turtle, starfish and seashell cabinet door pulls.) Sorry. Couldn't help myself.
Sites we used: homedecorators.com, thecompanystore.com, linensource.com, chefscatalog.com and coolknobsandpulls.com (Thank Google for that one. My keyword search was "turtle knob"!)
March 12, 2006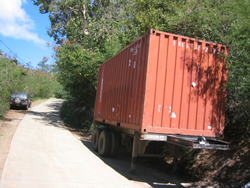 We can disclose the location of our secure container now, since it is now empty. (It was safe and sound sitting at the end of our driveway.) Jim Hall called early Sunday morning to say he couldn't stain a bedroom floor….because the bedroom was full of furniture.
The container fee apparently went from $20 a day to $50 a day and Claudia took it upon herself to just unload the container and be done with it. Without consulting us first. This is a real mess. It creates all sorts of work site problems. Needless to say, we are not happy customers.
March 13, 2006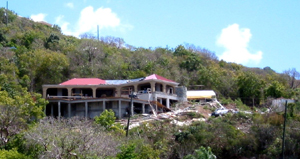 We're still pretty shell-shocked by the furniture thing. But, can't put that Genie back in the bottle, so we just laugh. I swear everybody on that rock has a screw loose. Seriously. You either accept that or you'll go crazy.
Our friend Harley, who has taken some time away from his desk at Cruz Bay Realty to build his own house in Virgin Grand Estates, snapped this nifty picture for us. Looks like they've found a workaround for that dining roof and are finishing it. He also tells us his last pour shot up to $1,100 per cubic yard. And he had to buy 40 yards. Damn. Scratch Harley from the list of people we can borrow money from!
March 14, 2006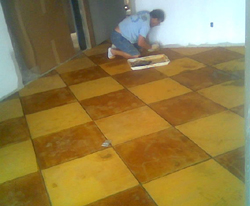 Our first look at the interior floors. This is somewhere in the middle of the process, so we're hoping the acid wash process mutes and darkens the colors a bit, 'cuz it's lookin' a little too Cirque du Soleil right now. I'm kinda dizzy.. and looking for the Jester to pop up.
Steve is a trooper and assured us not to worry about the furniture, although we know he's got to figure out how to work around it. We also don't want it constantly moved back and forth. But I'm sure it's not the first time he's had to deal with something like this. With any luck, it should be locked up where it can stay put this week.
The cabinets are supposed to be set in place this week. Good. I need a place for my candy apple red spaghetti strainer.
March 15, 2006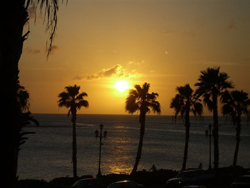 It's The Ides of March. Et tu, Bongo!? Like Caesar, we shoulda seen it coming.
This picture emailed tonight from my friend Barton, who is enjoying his newly-purchased timeshare in Aruba with his wife this week, which is sounding like a much better way to spend vacation home money to us right now. The caption was "Same sun as St. John?" Well, I guess it is, but it probably looks a lot better from his ultra-luxury "see ya next year" timeshare than it does from the cell in St. John debtors' prison where we'll be watching sunsets.
The kitchen and bathroom cabinet drawer and door pulls came today... a day early at that. They're very cool! (And, so far, they are the ONLY part of this project that has come in under budget and ahead of schedule.)
March 16, 2006
This picture is from last week, so we're assuming this shower, and the other inside shower are done. These showers are redundant and, probably stupid. We wanted outside showers, but we talked each other into including inside showers too, assuming there would be people that would prefer a "more conventional" experience. The inside showers (they open to the outside showers) are kind of awkward, and they're space hogs. We reworked them a couple of times to try to make them work better. A two bedroom villa with four showers. Overkill.
This was one of those "how do people stay in business down there?" days. We can't believe how many people we have crossed business paths with who say they will do something and….then just don't!
St John business-speak primer:
-"Call me back" means "leave me 7 voice mails that I'll blame bad cell phone service for not getting."
-"9 a.m." means "sometime before noon. You waited?"
-"Tomorrow" doesn't mean tomorrow…it just means "not today".
Among exceptions to this rule? Property managers and Realtors. If you want advice on how to get something done…these folks are your source. We've tapped it several times.
March 17, 2006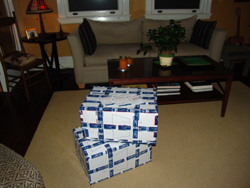 The United States Postal Service. We are actually already very good USPS customers, sending Express Mail to clients on St. John two or three times a week. (Going to the Florida Ave. post office is part of my weekly routine and I love the folks there and they have NEVER shot at me.)
Out go the first of what will be many BIG boxes. (These are Pottery Barn drapes and some very cool, framed, vintage bongo-themed LP jackets.) Our "Deep Throat" advisor claims he sent a flood of Express Mail cargo down for his house for almost nothing. The trick? The second day guarantee. USPS, try as they might, will likely miss the 48 hour guarantee to that Cruz Bay Post Office trailer, and, since you can track it, you get a refund that will pay for the next boxes you send. Or, so Deep Throat claims.
We'll expose Deep Throat (and his villa) at the end.
Flying down first thing tomorrow. Rented a pickup this time. They cannot possibly be orange.
March 18, 2006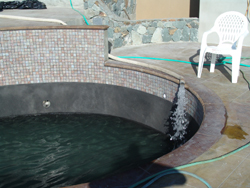 I arrive at Bongo Bongo Saturday at about 4:30 and the pool is being filled with water. SWEET! Using black plaster in a pool is definitely NOT normal, but we knew we would love it, and we do. It will have this glassy lake-like look. No Diving! (Oops…already lawyered up. Sorry.)
As it turns out, the stained floors look pretty damn good. The floors that are done have cured nicely. This is not for everybody. It's pretty industrial looking and there are imperfections. But it's turning out like WE wanted. As Jonathan Ruhsam would say, "You did something different. Good for you!"
March 19, 2006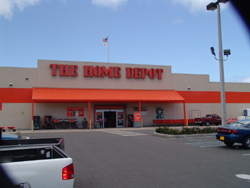 A crazy, fun day.
I met with Josephine from Coral Bay Garden Center at the house this morning to go over the landscape plan and reiterate the budget. I had such a ball with her, and I have no doubts she knows what she is doing. And, Papaya trees are free! (I'll explain later.)
Next, off to St. Thomas to first exchange this ridiculous 2 wheel drive bear of a Ford F-150 for a 4 wheel drive Ranger. Much better. One day of three point turns and skidding tires was enough for me.
Then, to Home Depot for paint. Yup…we're painting the interiors. We decided to do this long ago when the money we would save was more meaningful than it is now that we're 45 percent over budget. But we're doing it anyway, partly because we just want to be part of making this place. And it's still money saved. Gallons and gallons of paint with names like Summer Heat, Squash and Exotic Honey. We've never been shy of bold. White is not a color. White is an unfinished wall.
I also investigated Cost You Less, the big K-Mart, the small K-Mart and PriceSmart…just to get the lay of the land (and to get the most out of my $52 RT car barge expense.) Still no patio furniture, and we are not going to settle for just anything. The truck is half full.
Wow. Exhausted. I'm craving a pineapple juice. Wonder what goes well with pineapple juice. Hmm. Let me think on that. "Directory assistance? The number for Mr. Cruzan please."
March 20, 2006
The inside showers are going to be fine. All of the fretting, tinkering and reworking, and we end up back with pretty much exactly how John Maize drew them to begin with. Some things look good on paper, not good in the field, and then…in the end…the architect was right..
Bongo Bongo took back seat to Blue Tang Productions today, which included an all-expenses paid boat trip to Jost van Dyke and a visit to Foxy's to shoot a set of Foxy himself strumming, singing and being as entertaining as ever. I get paid for this? (Make that check out to Sunnyrock, please.)
March 21, 2006
By noon today I was pretty frustrated with progress. Just when I think I come down too often, I'm reminded that I don't come down enough. I guess there is a fine line between done wrong and just not done right. The red apron front (farmhouse) sink kinda cheered me up.
By 3pm, I was back in the groove, getting the first coat of (squash) paint on in one of the bedrooms. Not sure if the crew thinks I'm this guy who's getting in the way, or this cool dude who's willing to jump in and help. (Actually, I'm a semi-cool dude that doesn't want to pay them to do this.) Painting, even 17 feet in the air on someone else's ladder, was good therapy.(Yep, that's our furniture piled up out there.)
No news on the, as always promised this week, Roman columns. If Rome wasn't build in a day…it was probably because they couldn't get columns.
March 22, 2006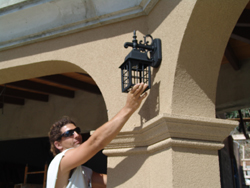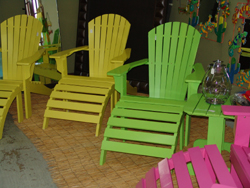 Another action-packed day for me and my Ranger. Back to St. Thomas ( I could see where this would become really tedious going to "the city") for a trip to MSI Interiors to pick up exterior fixtures. Lucas here displaying the Japanese lantern-like lights I brought back that will go on the outside of the verandas and the entrance to the house. I also picked up all of the track lighting here. Went with line voltage instead of low voltage because I HATE low voltage lights. Even with the right switches, the don't work well with dimmers. They buzzzzzzz. I used the Sunnyrock discount here. Not much…about 5 percent. But their prices weren't that bad anyway and they had a lot of good stuff.
I also went shopping. Silk Greenery… for a quote on some patio stuff. Not a bad quote. In the running. And Lifestyles in Red Hook where I spotted these really cool Adirondack chairs. Love them! No place really at Bongo Bongo for them. But I love them! Hmmm. The owner here has a furniture maker in Puerto Rico who is making us a wall unit for the TV, stereo and the big gratuity jar. Did I not mention that? Yes, tip your hosts, please.
March 23, 2006
Holy cow! I painted a bedroom Jeep orange! After a couple of coats, and drying, "Summer Heat" turned out a very nice, rich copper-ish color, but the first wet coat kind of scared me!
The day starts on a high note, as the Sunnyrock trailer shows up with our columns. Funny…because just 30 minutes before checking, we agreed on Plan B…just pouring our own.
The kitchen cabinets go in, and there was a problem. The 24 inches to the right of the sink for the dishwasher somehow turned into 18 inches. Cabinet guy blames builder. Builder blames cabinet guy. I have to side with the builder on this one. Measure twice, cut once. At any rate, of all of the solutions, swapping the dishwasher on the right for the 18 inch cabinet the on left keeps the sink centered in the window. It's just now a house especially designed for lefties. Hmm…a new marketing spin.
Swim anyone? This water…15,000 gallons of it…will soon get pumped back out and back into the cisterns. Pool plaster cleaned and acid washed, then water back in. Two trucks. About 25 cents a gallon. Cheaper than Evian, but I don't think I'd drink it.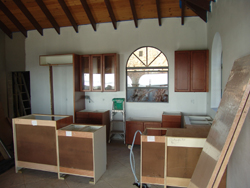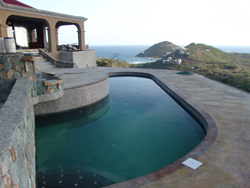 March 24, 2006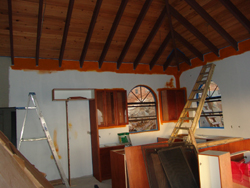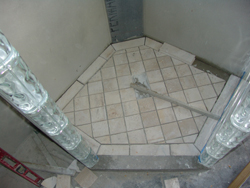 Here's the hum-dinger of the day. Trailer inspection reveals…they aren't our columns. A quick consultation with Russ and we agree that BB will have NO Roman columns. A single, big support that looks like the arch columns on the front of the house will be poured (I HATE the word "poured"!) first thing next week. Complete with the crown molding trim at its midsection. It will get stucco and it will look great. Done with this headache. An absolutely inexcusable shipping nightmare. That's the plan at this moment. We hope John Maize forgives us.
I would have been in the way of cabinet guys today so mostly I just paced until about 3. Then I started on the first coat of Exotic Honey in the great room and kitchen. It is NOT orange. My camera is in orange mode for some reason. I'd compare it to deli mustard. Very warm. I bought Behr paint and I hate it. We've had coverage problems with this Home Depot brand before, particularly deeply-tinted colors. I have no idea why I forgot that. The Summer Heat bedroom took 3 coats and it could use a 4th. Great room will need the same. I've walked 20 miles up and down ladders this week.
Russ and Susan Jablon make final decisions on the glass tiles that will be used in showers and the kitchen backsplash. Less glass tile than we dreamed about, but, budget and all, we're glad we're still getting some. They picked out WAY cool stuff! Razmatazz and Firefly mahogany. (Check it out at www.mosaicartsupplies.com.)
Meantime, the shower floors are courtesy of Sunnyrock. Leftover Travertine tile from another job (being cut down from 2'X2' squares) is given to us free…which I'd consider generous if WE WEREN'T 45 PERCENT OVER BUDGET!
March 25, 2006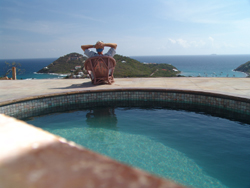 The final pieces of (stored elsewhere) furniture were delivered today from the defunct Functional Furnishings. At least they had the courtesy this time to call us first and tell us it would be unloaded.
The great room took three coats, but looks good. I'll post a picture, maybe tomorrow. I am DONE painting for now. I must've walked 20 miles up and down ladders this week.
Another walk-through with Cindy from Carefree Getaways this morning. She was excited which made me excited. Barring any other setbacks, I think we'll pull this off on time.
Funny thing….in this picture there is a small fortune behind me, yet I still prefer pointing my old flesh-colored chair in the opposite direction.
March 26, 2006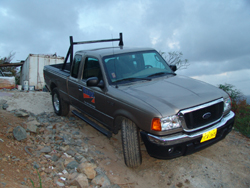 There's a better shot of the kitchen and great room color. Looks good with the cabinets.
I really enjoyed the Ford Ranger. I rented it from Budget. It was $500 a week (or $1,500 a month.) When I returned the F-150, they told me that it happens a lot. All of their new F-150s delivered were two-wheel drive and no one was happy. Good, 'cuz I thought I was just a weenie.
I'm back in DC. Russ approves of the paint pallet on my T-shirt. It's a brand new week down there and I'm bummed I'm not there to watch.
March 27, 2006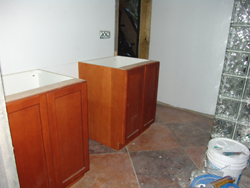 The bathroom cabinets are going in. This is the bathroom with space for the mini-frig. The other bedroom has a mini-frig too…just not in the bathroom. (A stock your own mini-frig, although after getting my last Westin bill and seeing a $9 charge for a can of peanuts, we should rethink that!) This bathroom went well, but there were problems with the cabinets in the other bath. The dual sinks wrap around an angled wall, and on one side the drawers banged into an opposing wall when opened. The solution was making 12 inch deep drawers 9 inch deep drawers instead. We're really happy with the quality of the cabinetry, but again we don't get the problems with field measurements. This shouldn't have happened, but it is fixed.
All of the linens and bedding stuff we ordered arrived unscathed, but we're still waiting on $2,000-plus worth of kitchen supplies, which is now AWOL. Soon come. Or not.
March 28, 2006
Time to revisit the wet bar area. This project kind of got sidetracked as the crew was redirected to…I donno…FINISH THE HOUSE. We're going to keep this simple. The stainless bar sink is already on site. The mini-frig is at Appliances Plus with the rest of the appliances anxiously awaiting a road trip to Chocolate Hole. We'll build out a framed and Durock covered box, with space for the frig, sink and a lower cabinet with a door…then stucco it and have Jim Hall fabricate a concrete counter for it, just like the kitchen. Or, so is the current plan. A plug for the blender and voila…wet bar.
Email from Steve this morning says they've started on the single column for the dining room roof. As reverse Murphy's Law will probably have it, the Roman columns will probably show up this week. (Return to sender!)
March 29, 2006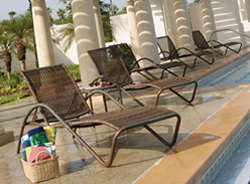 The forms are in place for the dining room column, and Steve has added arches to carry across into the beams, just like the front of the verandas. We didn't discuss this, but it now seems obvious and it will look even better that way.
We finally settled patio furniture. We had narrowed it down to two places that could get us what we wanted fairly quickly and it was between teak and aluminum. Teak would've been great, but we decided the maintenance, and the additional cost, just wasn't worth it. We ordered a bunch of this stuff…very cool looking aluminum framed furniture wrapped in a synthetic wicker-looking material. Pricey, but it should get there in time. We ordered it from a store called Silk Greenery on St. Thomas. There are actually a lot of neat little specialty stores we've found for pieces of this and that.
We've been spending a couple of grand a day the last week or so racing to buy all of the last minute stuff. We're so very numb to it all, and every transaction now ends with the phrase "…and give me the card's expiration date."
March 30, 2006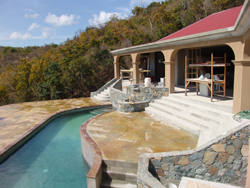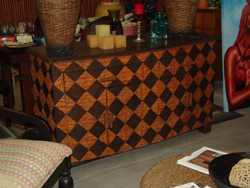 Okay…here's the headline:
As of today…we have exactly 30 days until our first guests arrive.
As impossible as it sounds, most of the people who should know seem to think we can pull it off if we push. We're both going back April 14 for two straight weeks pulling this together…right up until the guests arrive. Thank goodness the Virgin Islands doesn't observe Daylight Saving Time, because we can't afford to lose even one hour.
Another addition to the increasingly cool collection of furniture at Bongo Bongo. This buffet is leather! Found it at a store in Red Hook called Lifestyles. Visa. Or, maybe it was MasterCard.
March 31, 2006

There really isn't that much left to do.
Railings, plumbing and electrical fixtures (which are on site), appliances (which were delivered to the site today), finish the floors, start the landscaping (maybe this weekend), the wet bar (forgot to ask if that got started this week), hot tub in, finish dining roof, install door hardware, empty the pool, clean it and refill it, final grading, pour driveway. Yikes. There IS a lot yet to do.

Then there's putting all the furniture, A/V stuff, kitchen stuff and everything else in place. We have to ride the builder…no, hound him…every single day from this point forward. And we have to have a game plan for getting our part done.
The old building permit sign, crisp and fresh when it was tacked up 12 months ago, looks exactly like we feel.
April 1, 2006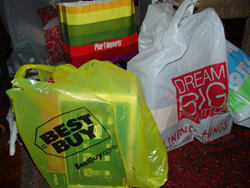 More reckless abandon shopping today. Another long list that included everything from towel bars to telephones. Having an excuse to stray from years of fiscal responsibility has been liberating! But, we were barely able to spend a thousand dollars today, which means we must be getting to the end of the list.
The boxes of kitchen stuff have still not arrived. It's been two weeks since they were shipped, and this is getting a little unnerving.
Steve has been promising pictures for the last three days and we've got nothing.
Just talked to my father (who has been a great outside observer throughout this process) and he says next week is key. Says He…tell the builder carpenters, plumber and electrician need to be in and out before next week is over. If so, we're in good shape. Should've flown dad down months ago. It'd be done by now.
April 2, 2006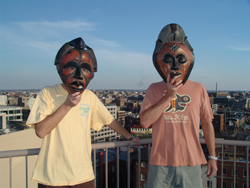 We found these big wooden masks at Eastern Market today. The problem was we were biking, so we looked pretty stupid biking back from Capitol Hill to Dupont Circle with these big things strapped to our handle bars. Don't know where they'll end up in the house, but they're pretty cool.
We have to remind the builder every day this week that we're under the gun. We're really stressing out about this driveway. It will be very expensive to pour, and we know all to well that even getting concrete when you want it is a major wild card. By the end of the week, I want toilets that flush and refrigerators that run. The thought of putting the first six pack of Red Stripe in our own refrigerator is pretty exciting. And this time I'm buying the BIG bottle of A1 Sauce, cuz if I don't use it all…it stays in MY frig.
April 3, 2006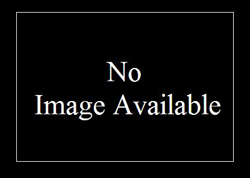 Steve has not sent any pictures since last Wednesday. We need to SEE what's going on, not just hear about it. Today's conversation ended like recent others with a promise of pictures. None have yet arrived.
The washing machine was damaged when it was delivered. Appliances Plus had another in stock and has already replaced it.
Craftmade no longer makes the fan in the color we specified. We'll go with Hunter. They are $50 more. Times 17. It will take a week to get them there, although that promise comes from the same company that was in charge of the Roman columns.
There is another concrete shortage, which we sure hope works itself out in the next week or so, so we can get that driveway done. This time it is a shortage of sand. On an island surrounded by beautiful beaches. A shortage of sand. Imagine that.
April 4, 2006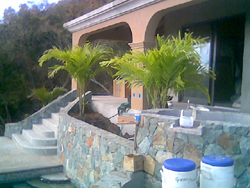 That's a fun picture to get. One of several pictures Steve fired off today after a little blog prodding. Looks like Josephine is getting busy. We're getting a whole bunch of palm trees both on the decks and planted around the villa…many kinds of them…including Roebelinnii, bismarkia, aveca and big triangle palms. Lots of plants and bushes that attract hummingbirds, big philodendrons and colorful stuff like bougainvillea, rhododendron and some cool plants called powder puffs, that have big powder puff-like flowers. (And a bunch of other stuff on the list that I'd have to Google to know what they look like.)
Coral Bay Garden Center is also the place that supplies some of the restaurants with organic stuff.
Oh! And the free papaya trees? Seeds are mixed into mulch that'll be scattered about, and the ones that take in the right place they give a little nurturing to. We've seen first hand how papaya seeds can turn into tall, fruit-bearing trees in less than a year.
April 5, 2006
The glass tiles from Susan Jablon are going in the inside showers. Tough to tell from this picture, but it appears they look pretty great.
I didn't say we were getting a whole lot of BIG palm trees. We're pretty sure most of this stuff will grow up pretty fast, and choosing smaller plants instead of instant gratification larger ones seriously lowers landscaping costs. Gotta admit though, this little guy's kinda like Charlie Brown's Christmas tree.
April 6, 2006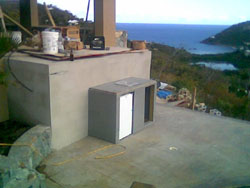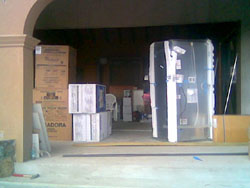 The wet bar is now framed in and covered in Durock. It will get dressed up. When the stucco guy finishes doing the area behind it, he'll also stucco the wet bar. They'll hang a door for the cabinet, and Jim Hall will top it with a concrete counter.
The appliances should be unpacked and in place by now, however the Viking range is now AWOL.
April 7, 2006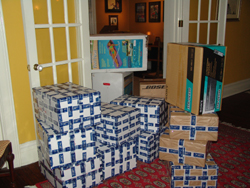 Okay…the Express Mail thing is getting out of hand. Seriously out of hand. We've gone through four rolls of Express Mail tape. There's talk of naming the Florida Ave. post office after us. And, unfortunately deep throat's tip has, so far, not panned out…as the USPS has not failed to deliver in two days as promised. I can't say the same for the standard postage delivery from Chef's Catalog. Our kitchen stuff remains unaccounted for.
Two calls to Steve today (that's TO Steve, not FROM Steve) with very little enlightening information. We still don't think he gets the urgency of the remaining timeline. He may be on site taking drink orders from our first guests at this rate. Steve would look good in a bow tie.
April 8, 2006
We got together this week two of the island's latest victims, uh, I mean homebuilders. Randy and Marcia, Sunnyrock clients themselves, live in the area, and they brought over good wine. We contributed cheap tortilla chips. This is one of their first pictures from their building site above Coral Bay. It looks like something sent back to Earth from one of those Mars rovers!
They showed us their plans for what will be a beautiful stone house, and they're both all excited and optimistic and blah, blah, blah. I remember all that. We tried not to burst their bubble. And, they actually seem a lot smarter about key things than we were when we started, but guys…when Steve tells you that you need to get down and pick your stucco color RIGHT NOW…don't rush.
April 9, 2006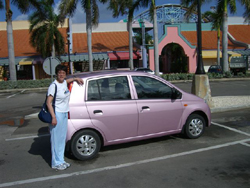 Tick, tick, tick. We think this will be a crucial week. We've had scouts up over the course of the last two weeks, and we'll keep them going up this week as we monitor progress from afar. We'll be back on site in 6 days and will have a better feel for things. This is incredibly stressful right now. Money. Time. Time. Money. Rapidly running out of both.
I thought an orange jeep was bad. This is the PINK Daihatsu my friend Barton and his wife were stuck with in Aruba. Despite that, they loved it so much there, that they just bought a second week in their new timeshare. Which technically makes them 100 percent over budget.
April 10, 2006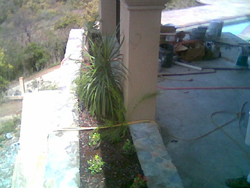 This was tense a day of phone calls. We actually got a pretty disturbing on-site report about progress over the weekend from a guy who's been through this. Nerves calmed somewhat this morning after long talk with Steve, subsequently with Jonathan, again with Steve, with Jim Hall the floor guy, Jonathan again and two with Brock, the rep at H&W Distributors. We also sent the management company up for an assessment from what we figure is a very interested and objective third party. We're pushing.
We cannot believe that the long track for a 16 foot section of sliding glass doors remains missing in action after more than 4 months of promises from H&W it would be in Wednesday's container. Just like the now forgotten columns. Without that track, we're in trouble. A promise from Brock himself to watch it be loaded this week. It's amazing what will be accepted as business as usual.
It's becoming apparent why our landscaping can be done within budget. These aren't really plants. They're more like plant-lets. How much Miracle Grow can I cram into the overhead bin?
April 11, 2006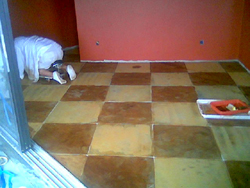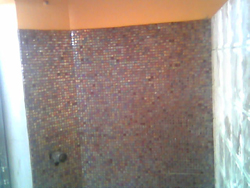 The clash between builder's crew and subcontractors is in full swing. One subcontractor in particular. Jim, the floor guy. He's in their way. They're in his way. He's falling behind schedule. I'm the one who gets an earful. He's also doing the counters, and getting him to get done and get out is kind of key to this house of cards right now. What he's doing is really very important to the finished look of this place too.(Again, pre-acid treatment on the floors, so they look awful at this stage.)
We calculated wrong, and they ran out of the firefly glass tiles. A quick reorder, and enough to finish should get there by Thursday. It really looks great, although I go back and forth between thinking it looks like some fancy European spa and the locker room showers at my high school.
April 12, 2006
It doesn't much look like it, but they're really starting to get some clean up done on the worksite. With any luck, we can get some final grading done shortly. Also anxious to see the shutters.
Some of the kitchen stuff finally showed up, 22 days after it was shipped. It was shipped on different days, so we're hoping the rest isn't far behind. The Viking Range has been located, but it's location is unclear. It's either in Miami, or St. Thomas...or Miami. It depends on what day I ask about it.
April 13, 2006
It rained a lot today. Probably pretty welcome, since it's been weeks since there was much rain and the island's looking brown.
We got a break on the insurance front. Our builder's risk policy was supposed to automatically convert to storm coverage when the house was finished, but the policy expired this month, making that a moot point. (I can still vividly hear the builder last fall confidently proclaim we would be spending Christmas in our house.) We were able to renew the policy with the same terms, which is good. It can be difficult, if not impossible to get storm coverage as hurricane season approaches. We had a tough time last March even.
Storm insurance is outrageously expensive. On our property, it is about $11,000 a year. That's a $900 monthly bill
I can't believe I'm doing this, but I'm going to have to make a Blog 4. Blog 3 is now too big. Wow.
April 14, 2006
Okay, I'm starting to be like J. K. Rowling. Each Harry Potter book kept getting longer and longer and lonnnger. Pick a girlfriend already, Harry! (I read them all on March thru September flights. Now it's just me and Sky Mall. I admit it.) So off we go to Blog 4.
Go here, or bookmark www.bongobongostjohn.com/blog4.
Bye, Blog 3. I still had a little bit of money when I started you!